Race week 3 - 17th August 2023 - Highlights
The popular Berkshire venue, renowned for Monday Night Racing between April-October and it's Thames riverside location, hosted the 2022 competition's 4th race week on the 1st September.
Royal Windsor racecourse owns one of only two figure-of-eight tracks in the UK and operates exclusively as a Flat racing venue, unlike Racing League's other four hosting racecourses; Doncaster, Lingfield, Newcastle and Southwell that host both Flat and National Hunt (Jumps) fixtures.
See 2022 Race week 4 - 1st September - Highlights
Location
The racecourse sits on its own island, banking the River Thames and the Clewer Mill Stream backwater passage, and is a stone's throw away from Windsor Castle. The course is 1.5 miles from Windsor town centre and 25 miles from London, with a 55-minute train journey to Windsor town centre from Waterloo. From Windsor Promenade, near the town centre and railway station, you can hop on a riverboat which will ferry you to the racecourse in style.
History
Royal Windsor racecourse, as its name suggests, has a royal heritage stretching back to the 1300s, when the area was used as a royal hunting ground, and racing is believed to have taken place in the area during the reign of Henry VIII. It was in the 1600s during the reign of Charles II, who was a huge fan of racing, that racing was first officially recorded in the area in Datchet. In the 1700s, it is noted that the site served as a preparation base for horses racing at Royal Ascot and there were popular race days nearby at Egham.
The 19th century saw an increasing interest in racing and in 1866, Flat racing began at the current Windsor Racecourse site. Instead of trying to compete in terms of quality with nearby Ascot racecourse, Windsor offered race opportunities for more inexperienced horses. Jump racing began at Windsor not long after Flat racing was introduced and was enjoyed by members of the Royal Family, including The Queen Mother when she was staying at Windsor Castle.
Uniquely, racing continued at Windsor during both World Wars, when most racecourses were used for military purposes. Winston Churchill developed an interest in racing during this time and his most successful racehorse Colonist II won at Windsor in 1949. In the 1960s the ever-popular Monday Night Racing at Windsor began, and the weekly events still run today. Jump racing at Windsor ceased in 1998 due to turf conditions and the need to preserve the ground for Flat racing. However in 2004/05 Windsor hosted some of Ascot's Jump fixtures whilst it was closed for refurbishment.
The Track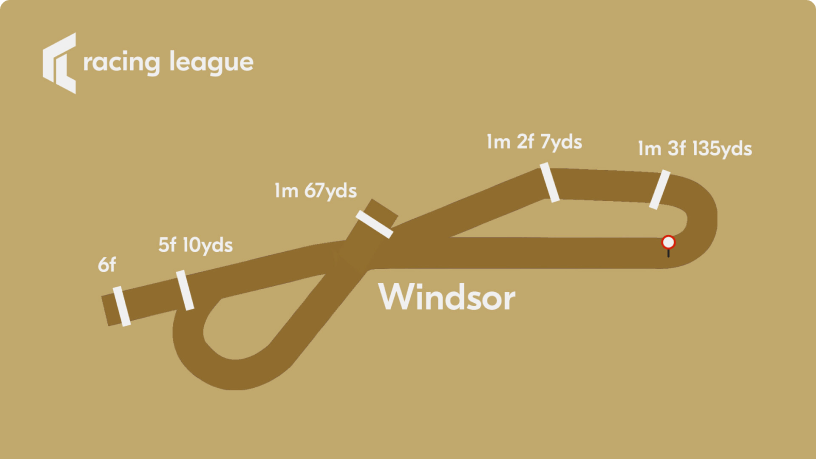 The Track at Royal Windsor - Start positions for Racing League races
Due to the turf course's unique figure of eight shape, over a 1m3f trip, horses will travel both left-handed and right-handed around the tight bends, making the course somewhat trickier than most. However, races over distances below 1m3f will only see right-handed turns.
The track is mostly flat throughout and has a long five furlong home straight which suits long-striding galloping horses, but combined with the sharp bends, speed, balance and adaptability are important. There are only 5 distances run at Windsor, over 5f, 6f, 1m, 1m2f and 1m3½f, meaning teams will race over one of these distances twice for Racing League's race week 4 at Windsor.
The Stats
Track records for Racing League race distances:
5f – 58.08s (2011)
6f – 1m 9.54s (2020)
1m – 1m 39.47s (2019)
1m2f – 2m 4.24s (2019)
1m3½f – 2m 21.50s (1980)
Most-Winning Racing League Flat Trainer at Windsor:
Most-Winning Flat Jockey at Windsor:
Oisin Murphy
Notable Fixtures
Monday Nights
Any Monday Night Racing fixture at Windsor offers good quality racing and is a great way to start your week. Near the beginning of the Monday Night Racing season at Windsor in Mid-May is the Royal Windsor Stakes, which is shortly followed by the Leisure Stakes Racenight, also in May. Both fixtures offer a card of seven races and include a Listed race as the feature, followed by music acts from top artists. There are no Sunday blues when you have racing look forward to on a Monday night!
Weekend Racing
If you're more into going Racing on the weekend, Windsor offers four weekend fixtures in the Summer months including a full weekend fixture at the end of June featuring the Midsummer Stakes on the Saturday. In early August, you can attend the Sunday Ice Cream Festival meeting for a day of family fun, racing and ice cream sampling. On the final Saturday fixture of the year in late August, Windsor pulls out all the stops with a top-class race card featuring the August Stakes and the Group 3 Winter Hill Stakes, followed by a headline music performance.
Facilities
There is a variety of amenities at Windsor which caters for all racegoers; whether you want to relax on a lawn with your own picnic, enjoy fine food in one of the three restaurants or sip champagne on the Paddock Lawn whilst watching the horses parade. Take a closer look at the racecourse map.
Racing League will be utilising free space inside and around the track to put on a real show, including food stalls, entertainment zone, fan-team interaction space and more.