2023 Race week 4 - 31st August - highlights
Newcastle racecourse hosts Flat racing solely on an All-Weather (AW) track, unlike Lingfield which stages Flat racing on both the turf and AW. The course does however have a turf track, which is used for National Hunt (Jumps) racing only.
Newcastle runs various music nights post-racing, with big names such as Jess Glynne, and besides the racing, the course hosts events such as the Newcastle Stampede - a running event for adults and children, novice and experienced runners alike.  
See 2022 Race week 3 - 25th August - highlights
See 2022 Race week 6 - 15th September - highlights
Location
Situated in the 812-acre estate, High Gosforth Park, Newcastle Racecourse is a short 5 miles from Newcastle City Centre. You can access the racecourse via a 15-minute taxi from the City Centre/Newcastle Central Station, a short bus ride or easily via car by following the racecourse signage.
History
Racing in the North-East has been recorded since the 17th century in Killingworth, 6 miles North of Newcastle. The prestigious Northumberland Plate, a 2m Flat handicap race dating back to 1623 was originally hosted at Town Moor, a large area of public park, until it was transferred to High Gosforth Park in 1882 when the racecourse officially opened.
The Northumberland Plate which was originally run on a Wednesday (it now takes place on a Saturday) became known as the 'Pitmen's Derby' and local miners were granted a days holiday to attend. The Northumberland Plate is often referred to as the Northern Hemisphere's Melbourne Cup, also a 2m Flat handicap race and is a Public Holiday for those in Melbourne.
The most significant change to the racecourse was in 2016, when the Flat Turf track was replaced with a floodlit All-Weather (AW) track which allows Flat racing at Newcastle all year round with over 50 Flat fixtures per year. The AW track's surface is Tapeta which is made from silica sand, wax and fibres and is used across the globe due to its safety, fairness and ability to handle low temperatures and heavy rainfall.
In 2019, Newcastle became the first racecourse to host a Group One race on an AW track, after it staged the Vertem Futurity Trophy which was abandoned at Doncaster due to waterlogging. This saw superstar horses from the top yards around the UK and Ireland come to contest the Trophy at Newcastle, which was won by Kameko. However, this wasn't the first time we saw star horses at Newcastle as the AW track is often used by the likes of Team 12's, John Gosden, as a starting track for some of his best horses such as Enable, the dual Prix de l'Arc de Triomphe winner. Gosden has described Newcastle as "the best all-weather track in the UK because of its configuration and surface."
The Track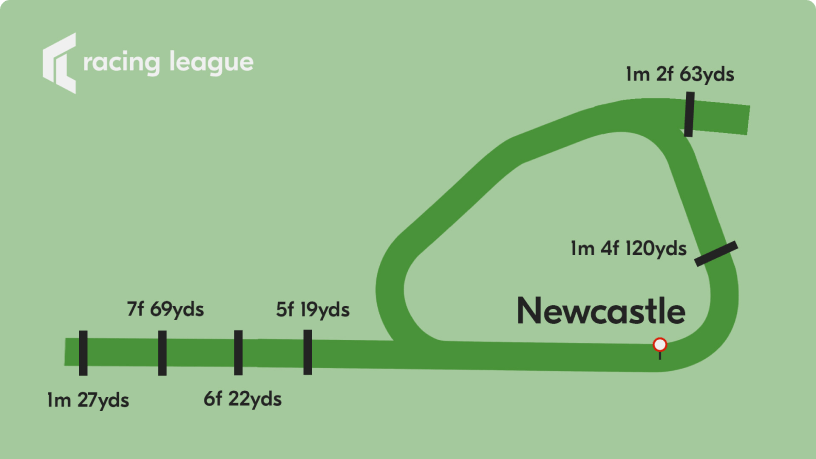 The Track at Newcastle - Start positions for Racing League races
The AW track at Newcastle is unique in that it has a floodlit straight mile, catering for races held at 5f, 6f, 7f and 8f which can be used in the evening, as well as having a round course which stages races at 1m2f, 1m4½f and 2m½f.
The track is left-handed with long sweeping bends on the round course, making it advantageous to grab a position on the rail so as to cover less ground and the final straight is uphill, putting an emphasis on stamina.
It's a wide galloping track and is described as very fair, which is perhaps why plenty of trainers favour Newcastle for their horses' first real race experience.
The Stats
Track records for the 6 Racing League distances:
5f – 57.70s (2018)
6f – 1m 9.86s (2017)
7f – 1m 24.10s (2019)
8f – 1m 36.10s (2018)
1m2f – 2m 4.88s (2016)
1m4½f – 2m 36.76s (2016)
Most-Winning Racing League Flat Trainer at Newcastle:
Most-Winning Flat Jockey at Newcastle:
Notable Fixtures
Northumberland Plate
Newcastle's most prestigious and historic race is the Northumberland Plate which takes place on the Saturday of the three-day Festival in June and welcomed over 20,000 spectators in 2019. On Northumberland Plate Day, you can carry on the party with a Live After Racing event with live music sets from singers, bands and DJs.
An All-Weather Championships track
Newcastle, like Lingfield, host All-Weather Championship races, along with another 4 AW tracks. Since 2017, Newcastle has staged racing on Good Friday, featuring the Burradon Stakes which was a qualifying race for the Kentucky Derby. In 2018 the race was won by Gronkowski who in his next race finished second behind the unbeaten US Triple Crown winner Justify in the Belmont Stakes in June.
Lively days and nights
Ladies Day and Student Race Nights are also highly popular events in Newcastle's Flat racing fixture list, offering both quality racing and lively entertainment.
For the Jumps fans
Racing on the National Hunt (Jumps) track gives us the Fighting Fifth Hurdle, the first Grade One hurdle of the NH season which is a thrilling and challenging race, won five times by Racing League's Team 8 trainer, Nicky Henderson. Another competitive race is the Eider Chase in February which is seen as a trial race for the Grand National and is always complimented by equally competitive races throughout the day.
Facilities
Newcastle has a variety of facilities, including its own pub, the Border Minstrel, located next to the historic Brandling House building. The racecourse has various enclosures, grandstands, pavilions, and outdoor areas to enjoy the racing from. Take a closer look at the racecourse map.
Racing League will be utilising free space inside and around the track to put on a real show, including food stalls, entertainment zone, fan-team interaction space and more.